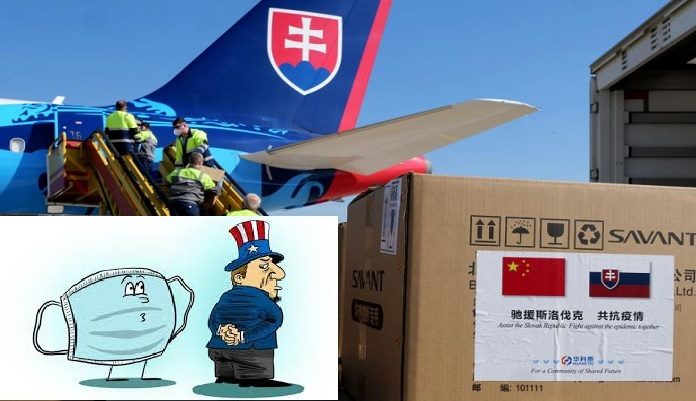 The current wave of the new Corona virus has undoubtedly affected the quality of life globally. The global citizens in different countries are now practically living in lock down. Global health, economy, diplomacy and education sector is facing the worst of the crisis. The virus COVID 19 reportedly originated in December last year in Wuhan city of China. China started to take relevant measures but few global leaders along with Donald Trump started to blame China for not taking timely measures regarding the pandemic.
Anyhow China managed the outbreak of pandemic and by March 19, made Wuhan the corona free city as no new local case was reported in the locality. President Xi also made a trip to the city sending a strong signal to international community of his resolve and China's institutional strength. In the outbreak of this pandemic, as American President called it as "Chinese Virus" followed by Mic Pompeo, naming it as "Wuhan Virus" diplomatic war between US and China escalated. Chinese diplomats started to blame US Army for bringing the virus into the city of Wuhan saying that they have enough proof to verify their assertions.
While the diplomatic stiff is going between two global powers, China started to portray itself as a responsible global state by lending help to most of the countries in the world. It started to send millions of masks to most severely hit European country Italy, along with teams of medical experts to help its initial BRI European partner. Other European countries receiving the masks and testing kits include France, Serbia, Spain, Belgium etc. The recovering mask industry of China is now back on track and producing thousands of masks every day, apparently which are being sent across the globe on humanitarian ground. African nations are also receiving the donations by the Chinese billionaire, Jack Ma's foundation. China also sent the testing kits and masks to its regional ally Pakistan. Philippines, Iran, Iraq also received the aid and China committed $500 million loan to Srilanka to fight this pandemic.
China is using this opportunity to build a soft image in global arena. While America is busy in tackling the virus at home, China is forwarding its agenda through Mask diplomacy. It is making use of Joseph Nye's soft power to build the trust and image of the country as a responsible global power. It has remained successful to get the support and appreciation of two important world Forums, i.e. WHO and United Nations. WHO in its report, published in late February, appreciated the swift response of China and declared Chinese model as an effective strategy to fight against the disease. Earlier UN official had stamped its effort in a statement.
Furthermore, Initially America has remained unsuccessful domestically as the number of cases has doubled in two days as of March 20. Moreover, more than 40% victims are young adults and manual testing rate has made it more difficult for the world's superpower to protect its citizens. In this worst scenario, Jack Ma Foundation has come to its rescue. It sent millions of masks and other necessary instruments to America with a loud message that China has a strong economy and leadership resolve to tackle any unexpected problem of global scale.
China's mask diplomacy will have a long-lasting effect for it as far as the world of international relations is concerned. Europe is all set to focus on the intricate relation with China this year, it will help China to have a softer image in the eyes of European countries. Already the public opinion is swinging in China's favor in Europe. Secondly, with the Panda diplomacy already in market, and now introducing the mask diplomacy, this blend will help China to project it as a peace loving philanthropical country. Ancient China had been leading the strip of the Asia through cultural power now the modern China under the leadership of President Xi is blending the political and strong institutional taste in it. It has a great potential to carry forward the vision of peaceful economic rise of China with global inter-connectivity. This is the new challenge that America will be facing in the aftermath of this COVID-19 virus.
*Umair Pervez – Pakistan
Disclaimer: The views and opinions expressed in this article are those of the authors and do not necessarily reflect the official policy or position of South Asia Strategic Research Center (GASAM)