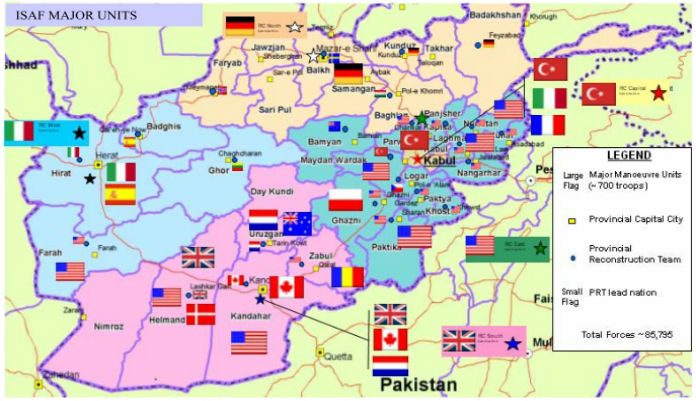 *Pervez Bilgrami – India
The Modern Republic of Turkey and Afghanistan have a deep-rooted, special relationship based on long historic ties. The diplomatic relations between the two countries were established in 1921, when Turkey had been fighting its war of independence. Afghanistan was the second country only after the former Soviet Union to recognize the government of the Republic of Turkey ruled by the Turkish Grand National Assembly. Afghan King Amanullah Khan was the first head of state to visit the new Turkish republic in 1928.
Turkey's influence in Afghanistan goes beyond the local Uzbek and Turkmen population that relates to Turkey due to their shared language and culture. The other ethnic groups in Afghanistan such as, Pashtun, Tajik, Hazara and Baloch also prefer Turkey to other Western and North Atlantic Treaty Organisation (NATO) countries owing to their historically trusted friendship and also Turkey's emergence as an assertive and independent regional power.
Humanitarian assistance and infrastructure Development
Turkey had provided an enormous support for modernization efforts in Afghanistan in various fields till 1960s-70s and played a crucial role in the establishment of modern state structures and public institutions in the fields of administration, military, culture, education and healthcare. Turkish support to Afghanistan was virtually discontinued after the Soviet invasion of Afghanistan in 1979, and subsequent infighting among the various Afghan groups. Turkish aid and assistance to Afghanistan could only be resumed after the ouster of Taliban from Kabul in 2001.
The construction and contracting firms of Turkey have realized 627 projects worth approximately $6 billion between 2003 and 2016. Turkish firms are in the first rank among foreign investors in the field of contracting with Turkish capital, and also operate in energy and mining sectors. Several Turkish companies also operate in service sector in Afghanistan like healthcare, logistics, consultancy etc. Turkey's development assistance program for Afghanistan covering 850 projects worth over $ 1 billion, is one of the largest assistance programs towards a country. Turkey announced additional $ 150 million of development assistance to be spread over the period 2018-2020 at the Afghanistan Conference held in Brussels in October 2016.Turkey's Government agencies namely, Turkish Cooperation and Coordination Agency Directorate (TIKA), Disaster and Emergency Management Presidency (AFAD) as well as the NGOs like Turkish Red Crescent and IHH have successfully completed numerous development projects and humanitarian assistance programmes in Afghanistan.
Military and strategic support
During the period when most of the NATO countries had either completely withdrawn or downsized their military support to Afghanistan, Turkey has been steadily extending its support to the security forces. Turkey provided trainings to thousands of Afghan military and police personnel both in Turkish war colleges and academies and also inside Afghanistan through its instructors. Turkey has also been providing direct military aid, equipment and ammunition to Afghan security forces. Turkey announced its pledge of additional $ 60 million for sustainment of Afghan security forces at Warsaw NATO Summit in July 2016.
Turkey has been participating in a non-combat NATO mission providing security to the sites of development programmes in Afghanistan where not a single Afghan was ever killed by a Turkish bullet. However, Turkey had met a loss in February 2015 when a suicide bomber attacked the Turkish embassy vehicle of security team of its Kabul Envoy killing one soldier and wounded another. Though Turkey lost its few military personnel in Afghanistan in non-combatant deaths in 2012, a Turkish military helicopter was crashed into a house on the outskirts of Kabul, killing 12 Turkish soldiers on board. Turkey had also lost two soldiers who died in a car crash in 2009.
Peace building and Istanbul process
In line with Turkey's stated objective to bring peace through a broad-based dialogue with Afghanistan and Pakistan and also with other stakeholders, the Turkey-Afghanistan-Pakistan Trilateral Summit Process was launched in 2007. Later in 2011, Turkey initiated the Heart of Asia-Istanbul Process to expand coordination between Afghanistan and its neighbours and regional partners. Unlike the other Western and NATO countries stationed in Afghanistan, Turkey wields a distinct blend of hard and soft power in Afghanistan displaying a vision other than the military solution. Due to its historical relations and cultural bondage with the Afghan people, Turkey is one of the most acceptable countries to the numerous rival Afghan groups.
So far as their bilateral visits are concerned, they are very common between the two countries. Turkish President Recep Tayyip Erdogan visited Kabul just after the formation of the National Unity Government (NUG) in October 2014– the first foreign leader to have done so. Former Afghan President Hamid Karzai, the incumbent President Ashraf Ghani, Chief Executive Abdullah Abdullah have also frequently visited Turkey. Afghan Vice-President Abdul Rashid Dostum, an ethnic Uzbek politician has been enjoying Turkish hospitality since long. In February this year, a high-level Hezb-i-Islami Afghanistan, now a part of NUG also visited Ankara at the invitation of Turkish President Recep Tayyip Erdogan.
After the formal opening of the US-backed Taliban political office in Qatar, the major stakeholders in Afghanistan such as China, Russia, Iran and Germany and others established a formal communication with the Taliban representatives. In the wake of these developments and the Taliban diplomacy gaining grounds, considerable changes in the regional politics are taking place. Turkey (along with Russia, Iran, India and Central Asian Republics) which was a strong supporter of anti-Taliban Northern alliance forces, is now rebalancing its Afghan policy to effectively reinforce the ongoing peace processes.
Preparing for final outcome
At present Taliban controls or contests nearly half of Afghanistan territory and the US-manufactured National Unity Government in Kabul facing severe internal and external challenges, and the US and its NATO partners have lost the appetite to reinforce the required boots to regain the territory from Taliban's hand. Most of the stakeholders are trying to find new remedies to solve the Afghan tangle. Turkey is closely watching the developments of the Quadrilateral Coordination Group (QCG) comprising the US, China, Pakistan and Afghanistan, and the separate lead taken by China, Russia, and Pakistan trilateral to find a political solution in Afghanistan having entered in its 17th year of conflict.  Turkey's souring relations with the US and divergent views on many conflicts from Syria to Iraq have paved the way for Turkey to chart out a more broad-based strategy in Afghanistan, apart from its participation in the joint NATO mission.
Turkey has rapidly increased its contacts with Shanghai Cooperation Organisation (SCO) member countries in recent years due to their common interest on many international issues, including Afghanistan. Turkey was also granted the chairmanship of the energy club of SCO for the 2017 period that made Turkey the first country to chair a club in the organisation without its full membership status. After assuming power Ashraf Ghani sought to use China, Russia, and Turkey to persuade Pakistan to bring the Taliban to peace talks. Thus, Turkey's gradual rapprochement with Russia, smoothening of ties with China and deepening relations with Pakistan are giving shape of a new alliance which would also impact the Afghan affairs. It may thus be concluded that Turkey, with its substantial military and economic presence and a high degree of its acceptability to all the major groups in the war-ravaged Afghanistan is poised for a long haul, and now strategically positioning itself for the post-NATO Afghanistan.
Disclaimer: The views and opinions expressed in this article are those of the authors and do not necessarily reflect the official policy or position of South Asia Strategic Research Center (GASAM)