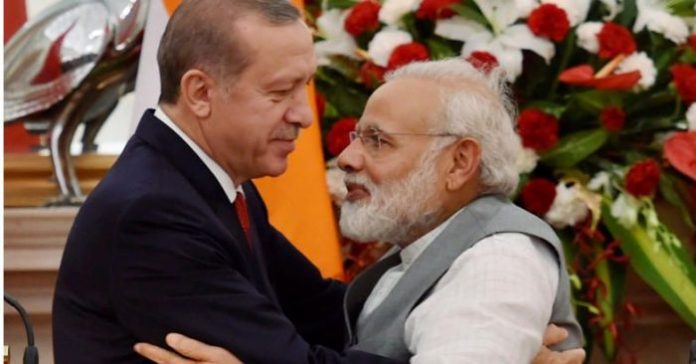 H.E. Mr. Recep Tayyip Erdoğan
President of Turkey
President House, Ankara, Turkey
Hope this letter will find you in sound health and spirit InshaAllah!
We the Indian Muslim Organizations along with undersigned, whole heatedly welcomes your Excellency's first Visit to India, This visit will ensure further boost our friendly relations between the Turkey and India. This will further strengthen the existing Social, Cultural, Political, economical and friendly relations between the Turkey and India and will also enhance people to people relations between the two countries.
We heartedly extend our solidarity with your Excellency and the great people of Turkey.
We strongly condemned the failed attempt of army coup against the duly elected government of Turkey and extended our wholesome support and solidarity with your democratically- elected government under your able leadership and to the people of Turkey.
We also appeal our Indian Government that respecting sentiments of the people of Turkey, Govt. should close all the Schools and institutions in India run, funded and supported by Fathullah group FETO of Turkey.
We appreciate your tireless endeavor for the return of glory of traditional Turkey intact while keeping its modern outlook and economic well being in mind.
We appreciates the efforts of the people of Turkey and its NGO' for establishing a good rapport with rest of the world in general and Muslim world in particular.
Turkey's effort to host more than 4 million Syrian refugees as their respected guests and spending more than 6 billion USD every year is a commendable activity world must appreciate. Likewise its philanthropist help to the people in distress elsewhere in the world like Myanmar etc must also be applauded. We support all humane and true Islamist campaign under your Excellency's able guidance and leadership to counter the Islomophobic design spread by vested interest anti- Islamic forces.
We also condemn FETO, ISIS and PKK terrorist organizations brutal attack against the innocent citizen, Turkish Soldiers, children, women, old age, people to derail the reforms and developments in Turkey.
We support your actions and governance in order to fight these terrorists groups.
We have great expectation with Turkey to wipe out the anti- Islamic Terrorists organization like, FETO, ISIS, PKK and other terrorists organizations, so that the killing of innocent people can be stopped immediately.
We are thankful to the govt. of Turkey for inviting an elite delegation of Indian Muslim social activists, eminent journalists and religious leaders in March 2015, under the leadership of Dr Tasleem Ahmed Rehmani, President Muslim Political council of India.That was really a useful visit and we look forward such frequent visits from India to strengthen people to people ties between the two traditional friendly countries.
We assure your Excellency all out support and allegiance to you and your efforts from people of India in general particularly from Indian Muslims reviving century old history of cooperation during Khilafat Movement.
May Allah bless your Excellency long life, peace and good health to carry out all such services to Islam and human kind of our time. We hope and pray for the renaissance of historic Indo- Turkish relations in near future.
With highest regards.
Sincerely yours,
Dr. Tasleem Ahmed Rehmani
National President of Muslim Political Council of India,