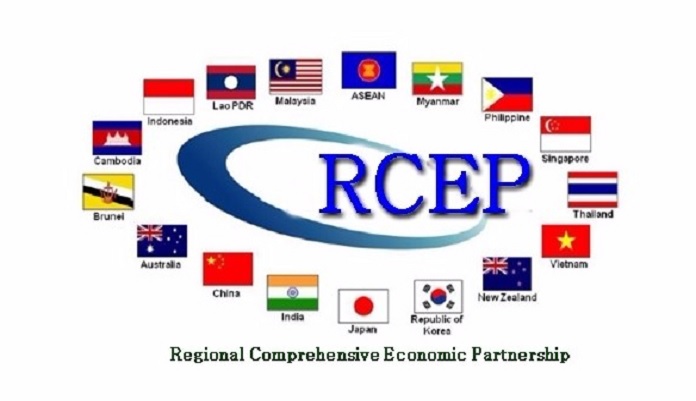 *Dr. Amnah Khalid-India
Regional Comprehensive Economic Partnership (RCEP) is a trade agreement created to deepen, modernise a high-quality comprehensive trade relationship of mutual benefit between its signatories. It is a partnership to expand regional free trade and investment to strengthen value chain particularly small to medium enterprise. It will support an open inclusive rule based multi bilateral trade to create market and employment opportunities for businesses and people. Signatories to agreement will gain access regional market, progressive reduction and elimination of custom duties for trade set to increase both inter and intra-regional trade. It also intends to facilitate transparency, information exchange and improved technical regulation, compliances and standards among member countries.
Currently, there are 15 members from Asia Pacific region, ASEAN+5 regional countries; Cambodia, Indonesia, Malaysia, Singapore, Laos, Myanmar, Philippines, Thailand, Vietnam, Brunei Darussalam and five regional countries Australia, China, Japan, South Korea, New Zealand while India withdrew in 2019 but is permitted fast track joining later date, recognising it as one of the original negotiating members. When the agreement comes in force, it will cover total population of current 15 members that stands at 2.2 billion with a combined GDP of US$ 24.8 billion and covering 28.9 % global GDP. It is expected to add US$ 186 billion to world economy and make the region one of the biggest trading bloc to rival CTPP. Five of RCEP members cross sects G20; Australia, China, Indonesia, Japan and South Korea forming international cooperation with the largest global economies. It is therefore an important economic trade agreement and seen a part of global post covid economic recovery effort.
RECP is set to become the largest free trade agreement superseding the European Union (EU), United State- Mexico- Canada Agreement (USMCA) and the comprehensive and progressive Trans-Pacific Partnership (CPTPP/ TPP-11). RCEP and CPTPP has 7 overlapping members; EU- Japan Canada Agreement, many analysts see RECP as a trade that does not include intra-EU trade. RECP will establish ASEAN as a long-term stable production and export market in the risky and uncertain global supply chain.
RCEP's agreement consist of twenty chapters covering, trade in goods and services, investment, government procurement, standards and technical regulations, intellectual property rights (IPR), ecommerce, and other issues. RCEP has a complex tariff schedule in which parties agree to reduce or eliminate tariffs by approximately 92% over 20 years, with eliminated tariffs/quotas covering over 65% of goods traded. There are however, sizable carveouts in certain sectors, like agriculture in the case of Japan. Due to existing Free Trade Agreements, tariff reductions are not necessarily substantial for all of the parties. In services, while seven members agreed to a "negative list" approach that restricts only those sectors listed explicitly, eight members (including China) negotiated to keep a "positive list" approach that only liberalizes the sectors they list in the agreement—these countries committed to transition to a negative list within six years. Some estimates suggest that at least 65% of services sectors will be fully open, with advanced market access in professional, financial, telecommunications, computer, and logistics services. The e-commerce chapter, like some others, is not subject to general dispute settlement. RCEP parties, particularly least developed countries (Burma, Cambodia, Laos) and ASEAN members negotiated "special and differential treatment" that largely offers transitional periods for various commitments (e.g., related to e-commerce, trade facilitation, and IPR).
Based on the provision of RECP agreement, it will come into effect in 60 days once at least six ASEAN members and three ASEANFTA partners submit their ratification to ASEAN secretariate. According to Chinese Commerce Ministry, all signatories will strive to complete ratification within 2021 to expediate enactment by 1st January 2022.
Currently China, Japan, Singapore, Cambodia and Thailand have ratified the treaty. Singapore deposited instrument of ratification to Secretary General of ASEAN on 9th April 2021, China submitted its ratification on 28th April 2021 and Japan did on 25th June 2021. Thai Parliament had ratified the agreement and submitted in February 2021 itself. The Cambodian and Laos parliament unanimously ratified the agreement on 20th September 2021. Malaysia Trade Minister Mohammad Azmin replying to Datuk Seri Tiong King Sing (PDP) in parliament stated on the status of RECP ratification that the current agreement requires amendments to three Acts under the preview of the Ministry of Domestic Trade and Consumer Affairs relating to Intellectual Property (IP) rights specifically Patents Act, Copyright Act and Trademark Act and targets the submission by mid December 2021. Philippine's undersecretary Ceferino Rodolfo warned, the country will lose out if it does not ratify RCEP, the cost will be very high and the country especially competing with neighbours, friends and competitors for new investment and expansion opportunities. It expects RECP approval from senate anytime, after it gained Presidential approval last September. Indonesian Trade Minister Muhammad Lutifi introduced the agreement in parliament on 25th August 2021. Although Myanmar is politically unstable and protests continue, Malaysian Trade Minister told media Myanmar has ratified and submitted its agreement to ASEAN Secretary General but the matter was undecided. Vietnam's Trade Minister has announced it will ratify the agreement before November 2021. Brunei has announced their intention to complete the domestic ratification process by November 2021. According to Department of Foreign Affairs and Trade the agreement was tabled in Australian parliament on 18th March 2021 and has moved to House of Representatives on 1st September 2021.New Zealand a strong supporter is expected to submit its ratification too.
Although India was early negotiating members since 2012 but withdrew in 2019, it had a number of issues during RCEP negotiations that it considers fundamental which remain unresolved by the deadline to commit to signing the deal. Officials negotiating, point out, they wanted protection for agriculture and Dairy industries and preferred to offer advantage in service sector. In the current agreement there is inadequate protection against surges in imports and there could possibly be circumvention of rules of origin- the criteria used to determine the national source of a product in the absence of which some countries could dump products by routing them through other countries enjoying lower tariffs. Furthermore, there were no counter measures like an auto-trigger mechanism to raise tariffs on products when their imports crossed a certain mark. India also could not afford equal treatment under most favoured nation from investment chapter to countries it had border dispute with (China) the same benefits it gave to strategic allies for geopolitical reasons. It would have to extend benefits given to sensitive sectors like defence to all members. Likewise, the agreement was silent on assurance on market access in China and non-tariff barrier on Indian companies. Although India is the fifth largest economy at GDP US$ 2.8 trillion and highest global population by 2027, it is far behind China and ASEAN total economic output. The real fears of India may lie it being not successful in making profits from free trade agreements with RECP countries except China. Collectively India's trade deficit with other RECP countries stood at US$ 108.5 billion in 2018, it has trade deficit with 11 of 15 RECP members and the agreement does not protect the Indian economy. It is for this reason India withdrew and does not intent to join. Japan, New Zealand, Vietnam and Malaysia are keen it joins and reconsider the decision to allow re-entry via a special clause at a later stage. There are concerns that India's decision would impact its bilateral trade ties with RCEP member nations, as they may be more inclined to focus on bolstering economic ties within the bloc. Given attempts by countries like Japan to get India back into the deal, there are also worries that India's decision could impact the Australia-India-Japan network in the Indo-Pacific. It could potentially put a spanner in the works on informal talks to promote a Supply Chain Resilience Initiative among the three. Domestically, re-joining is particularly difficult with opposition Congress party making a U turn on the issue, RCEP was first mooted during its tenure and it had attended the session but now warn the government against it in the interest of farmers, shopkeepers and influx of cheap Chinese product dumping in local markets. Analyst in Delhi instead prefer the consideration to join CPTPP Free Trade pack if US decides to join with Biden in white House. In a changed unanticipated global covid economic crisis all nations are having to reassess their trade priorities and with greater competition for available market investment and opportunities and like other countries adding their conditions and riders India could consider the shifting volume of global trade and re-alight once it improves domestic manufacturing and other conditions because countries in such agreement would want to keep their trade deficit with countries in the agreement rather than those outside. India should not isolate itself in the region and rather re engage to find new advantages in new conditions.